In the human wrist there is a sheath of tough connective tissue which surrounds and protects the median nerve and tendons that attach muscles to the wrist and hand bones. The Carpal Tunnel is the space above ane below this sheath and the bones making up the carpal bones in the wrist and hand.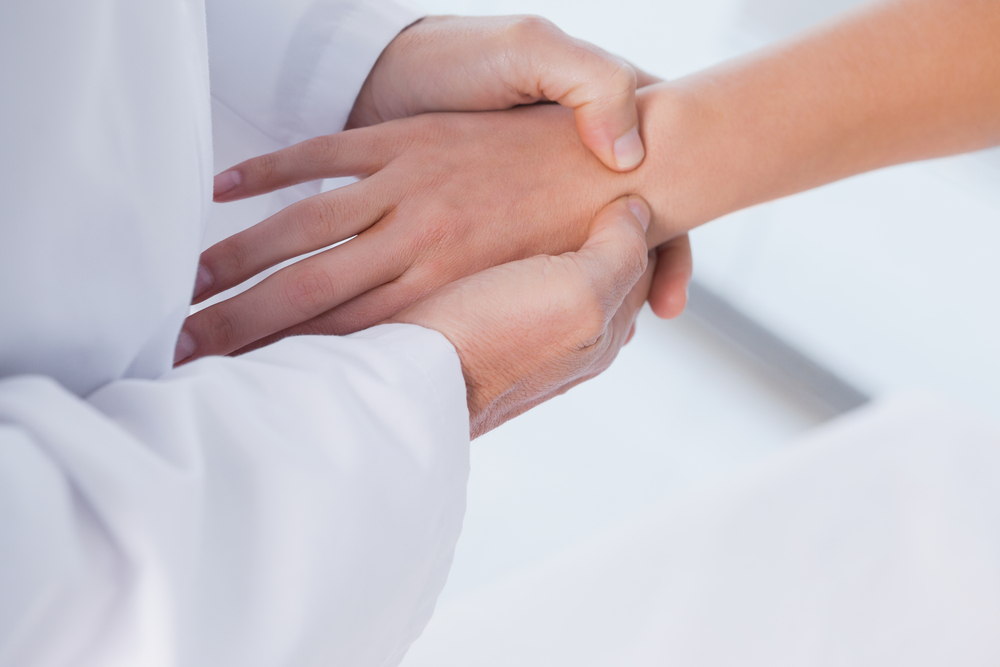 The term 'Carpal Tunnel' is also used quite commonly to refer to 'Carpal Tunnel Syndrome' which is a condition where the median nerve is pinched within the tunnel and causes pain and/or numbness of the wrist/hand, once thought to be a result of repetitive motion such as painting or typing.
Carpal Tunnel Syndrome is a medical condition more common in women than it is in men, and has a peak incidence around age 50 though it can occur in any adult.
What are the Symptoms of Carpal Tunnel?
The first symptoms of Carpal Tunnel usually appear when trying to sleep. Symptoms range from a burning, tingling numbness in the fingers, especially of the thumb and index and middle fingers to difficulty gripping and making a fist. Inability to firmly grasp and dropping things can become an issue. If left untreated the symptoms can progress, and increasing pain intensity can further restrict hand functionality.
In the early stages of Carpal Tunnel, individuals often mistakenly blame the tingling numbness on their sleeping position, thinking their hands have had restricted circulation and are simply falling asleep.
It is important to note that unless numbness is one of the predominant symptoms, it is unlikely the symptoms are primarily caused by Carpal Tunnel Syndrome. In effect, pain of any type, location, or severity with the absence of significant numbness, is not likely to fall under this diagnosis.
Carpal Tunnel Syndrome is known as a "hidden disability" because people can do some things with their hands and appear to have normal hand function. However, despite these appearances, those afflicted often live with severely restricted hand activity due to the pain.
What Causes Carpal Tunnel? The jury is still out on this one. Most cases of Carpal Tunnel are idiopathic. Many people with Carpal Tunnel Syndrome have gradual increasing symptoms over time. A common factor in developing Carpal Tunnel symptoms is increased hand use or activity.
In summary, Carpal Tunnel Syndrome can easily be aggravated by activity. People that develop symptoms will frequently blame this on their work exposure, even though this exposure may indeed have little to do with the root cause of their Carpal Tunnel Syndrome.
Advertisement:
Sale
Bestseller No. 1
Sale
Bestseller No. 2
Bestseller No. 3
Carpal Tunnel Wrist Support Brace - Fashionable Wrist Brace That Supports Your Wrist for Carpel Tunnel Syndrome Relief - for Night and Everyday Use with a Black Adjustable Wristband (Grey)
One Size Fits Most; The soft woven sport loop material is quick-fastening (multiple position adjustment), flexible nylon weave with a sporty thread; This quick-fastener keeps your wrist comfortable and scratch free; Multi-position versatility is suitable for left and right hand and for everyday use; Other competitors may rely on size charts and fitting issues for clients, while our brace fits most with ease
Compliments Other Night Time Braces; Our Carpal Tunnel Brace was designed for mobility during the workday while still supporting and relieving carpal tunnel syndrome; The biggest downside to a normal carpal tunnel brace is the loss of mobility and functionality of your wrist; Add our brace to your daily routine to have the best support for night and day time
I get commissions for purchases made through links on this website. As an Amazon Associate I earn from qualifying purchases.