In the human wrist there is a sheath of tough connective tissue which surrounds and protects the median nerve and tendons that attach muscles to the wrist and hand bones. The Carpal Tunnel is the space above ane below this sheath and the bones making up the carpal bones in the wrist and hand.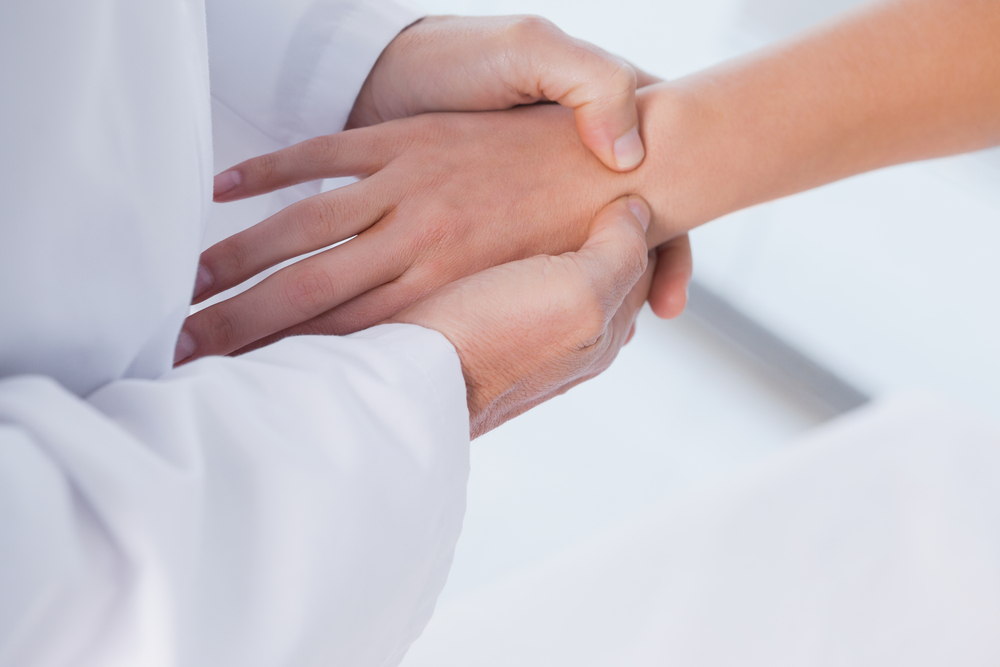 The term 'Carpal Tunnel' is also used quite commonly to refer to 'Carpal Tunnel Syndrome' which is a condition where the median nerve is pinched within the tunnel and causes pain and/or numbness of the wrist/hand, once thought to be a result of repetitive motion such as painting or typing.
Carpal Tunnel Syndrome is a medical condition more common in women than it is in men, and has a peak incidence around age 50 though it can occur in any adult.
What are the Symptoms of Carpal Tunnel?
The first symptoms of Carpal Tunnel usually appear when trying to sleep. Symptoms range from a burning, tingling numbness in the fingers, especially of the thumb and index and middle fingers to difficulty gripping and making a fist. Inability to firmly grasp and dropping things can become an issue. If left untreated the symptoms can progress, and increasing pain intensity can further restrict hand functionality.
In the early stages of Carpal Tunnel, individuals often mistakenly blame the tingling numbness on their sleeping position, thinking their hands have had restricted circulation and are simply falling asleep.
It is important to note that unless numbness is one of the predominant symptoms, it is unlikely the symptoms are primarily caused by Carpal Tunnel Syndrome. In effect, pain of any type, location, or severity with the absence of significant numbness, is not likely to fall under this diagnosis.
Carpal Tunnel Syndrome is known as a "hidden disability" because people can do some things with their hands and appear to have normal hand function. However, despite these appearances, those afflicted often live with severely restricted hand activity due to the pain.
What Causes Carpal Tunnel? The jury is still out on this one. Most cases of Carpal Tunnel are idiopathic. Many people with Carpal Tunnel Syndrome have gradual increasing symptoms over time. A common factor in developing Carpal Tunnel symptoms is increased hand use or activity.
In summary, Carpal Tunnel Syndrome can easily be aggravated by activity. People that develop symptoms will frequently blame this on their work exposure, even though this exposure may indeed have little to do with the root cause of their Carpal Tunnel Syndrome.
Advertisement:
Bestseller No. 1
Sale
Bestseller No. 2
Night Wrist Sleep Support Brace - Fits Both Hands - Cushioned to Help With Carpal Tunnel and Relieve and Treat Wrist Pain ,Adjustable, Fitted-ComfyBrace
INSTANT WRIST RELIEF! CARPEL TUNNEL SYNDROM: BE GONE, GONE, GONE! Are you so DONE with debilitating wrist pain? Have you HAD IT with Carpel Tunnel Syndrome, Arthritis, Tendonitis, or post-cast wrist pain? FED UP with waking up writhing in agony due to your throbbing wrist? SALVATION IS HERE! Look no further than this Bestselling Ergonomic Wrist brace! Sleep blissfully at night! Breeze easily through all your daily tasks! Relief so obvious, you'll be sorry you hadn't found this sooner!
ADJUSTABLE, CUSTOMIZABLE, ONE BRACE FITS MALE, FEMALE, BOTH RIGHT & LEFT HAND! Toss that too-loose yet stuffy wrist brace! Go 2021 all the way with this cutting-edge model designed for extreme support, maximum comfort, durability, and the versatility to fit both right AND left wrist, both men and women!! Super-efficient and convenient to use with its slip on sleeve design! Save your time and energy for better things! Get that sore wrist snug as a bug in a rug in a frustration-free second!
Bestseller No. 3
Scurnhau Resting Hand Brace, Soft Stroke Hand Splint Night Support for Men and Women, Hand Rest For Arthritis, Tendonitis, Carpel Tunnel Syndrome, Metacarpal Breaks, Flexion Contractures
【ERGONOMIC DESIGN】:Through continuous testing, an ergonomically shaped Resting hand Splint was designed, Ideal for stroke hand, metacarpal breaks, sprained knuckle treatment, tendonitis, post-operative care, carpel tunnel syndrome, other wrist injuries, and all kinds patients with hand dysfunction.
【FIVE FIXED STRAPS】:Scurnhau hand splint separate straps hold the fingers, palm, wrist and thumb, comfortable fit and will keep you hand in place, while gently stretching your phalanges and avoiding the contractures that can sometimes follow a serious medical incident.
I get commissions for purchases made through links on this website. As an Amazon Associate I earn from qualifying purchases.