A Chevron osteotomy is a commonly carried out surgery to take care of bunions on the feet. The bunion is the swelling and a misalignment with the big toe that causes the big toe to turn towards the lesser toes. This often causes a lump on the base of the big toe or hallux that can turn out to be sore. There are many different surgical procedures which they can use to deal with a bunion. Each of the procedures carries a variety of indications as to exactly who it's the most appropriate for. Having a Chevron osteotomy, the feet and ankle orthopaedic as well as podiatric physician cuts a "V" near the end of the long bone behind the big toe (the metatarsal) and after that moves that cut portion of the metatarsal to correct the great toe.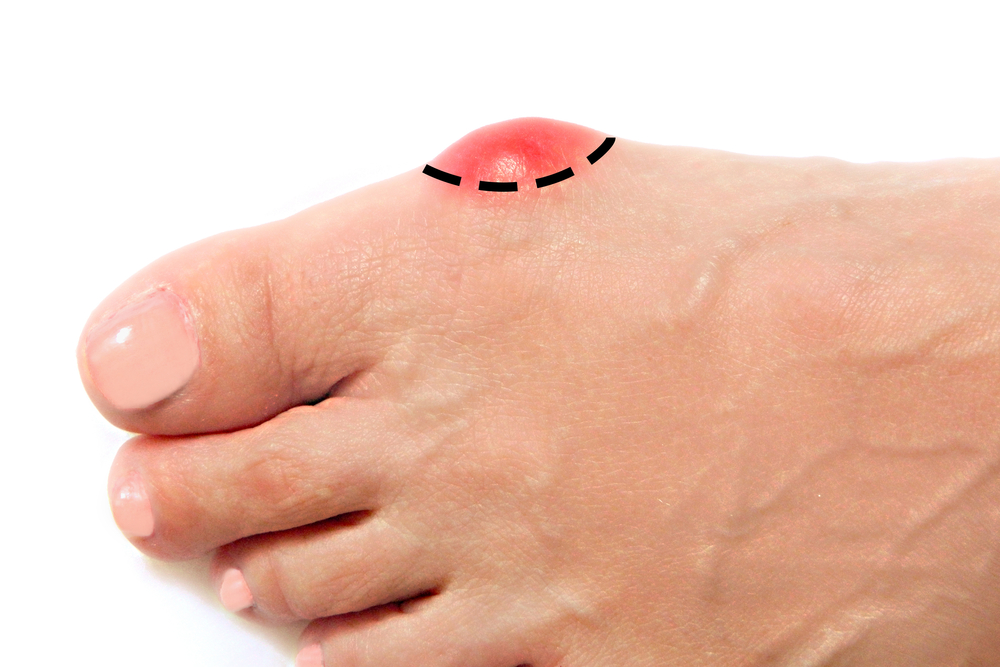 The actual indications for the Chevron osteotomy are generally for younger individuals who have no arthritis within the joint and the angle of the great toe is considered slight to moderate. It is usually the procedure usually chosen for younger sports athletes, even though elderly people having a mild deformity are able to do well with this surgery. The crucial prerequisite is a joint that's congruent and without any arthritis in the great toe joint. A Chevron osteotomy is contraindicated when there is a great deal of deviation of the toe or if the adductor muscle groups and also ligaments will be tight or there is an incongruity with the hallux joint and osteoarthritis in the joint.
The outcome of bunion surgery following a Chevron osteotomy are likely to be great. In a research study by Hans-Jorg Trnka and co-workers (published in the JBJS in 2000) they studied 57 people that underwent a Chevron osteotomy with a five yr follow up. They noted that the range of flexion of the great toe or hallux joint decreased between the initial review and the 2 year follow-up but wasn't any worse at five years. Additionally they reported no alterations in the angle of the hallux valgus deformity relating to the 2 year and 5 year assessments. Individuals older than fifty years did as well as younger patients that places a question mark over this surgery primarily being indicated for younger people. The Chevron osteotomy surgery can harm the blood vessels nearby the base of the big toe joint, however these scientists uncovered zero cases of osteonecrosis in the first metatarsal head at both the 2 year or five year follow-ups periods. Nevertheless, these authors did report that there was osteoarthritis of the great toe or hallux joint in eight feet at the 2 year review as well as in eleven feet at 5 yr review.
Just like any surgical treatment for any bunion, the Chevron osteotomy is an excellent alternative for the correct indicators and when performed by a surgeon who is knowledgeable about those reasons and contraindications and has the specialized abilities to complete the surgical treatment diligently. As with any surgeries there are actually from time to time undesirable outcomes, however with the Chevron osteotomy a lot of them are generally managed. If you need bunion surgery, you will need to take it up with the surgeon which treatment is best advised for you along with what the final results are most likely to be.
Advertisement:
Bestseller No. 1
Ankle Compression Sleeve - 20-30mmhg Open Toe Сompression Socks for Swelling, Plantar Fasciitis, Sprain, Neuropathy - Nano Brace for Women and Men (Beige, Large)
✅ Premium Quality - Our 20-30mmHg graduated compression sleeves are made only of high-quality materials. They are lightweight and breathable. Perfect for your feet with wide range of colors. They provide proper arch support from heel to toes. High-performance and ideal for daily use on your foot
✅ Ankle Pain Relief - Wear these ankle compression sleeves under your shoes and socks for pain relief in your heels caused by plantar fasciitis, injury, sprained ankle, Achilles tendonitis, edema, heel spurs, varicose veins, fallen arches, lymphedema, swollen ankles. Our toeless ankle sleeve supports your leg all day
Bestseller No. 2
Bestseller No. 3
I get commissions for purchases made through links on this website. As an Amazon Associate I earn from qualifying purchases.
I manage the admin at this site and post articles of interest.